Cooperative Development Gap in Québec and Saskatchewan 1980 to 2010: A Tale of Two Movements
Keywords:
Historical bloc, Hegemony, Saskatchewan, Québec / Innovation sociale, Coopératives, Mouvements sociaux, Economie sociale, Démocratie économique, Gramsci, Bloc historique, Hégémonie, Québec
Abstract
ABSTRACT
This study uses Gramscian hegemony theory and the social movement approach to cooperative development to investigate the cooperative development gap that opened up between the provinces of Québec and Saskatchewan from 1980 to 2010. First, provincial sector growth is compared across several indices to establish this gap's empirical scope and scale. Second, historical research and fieldwork findings are used to illuminate the gap's origins and its historical significance. The article concludes that the development gap has been largely driven by bloc formation and dissolution—the historic erosion of Saskatchewan's traditional, agrarian-cooperative bloc and the renewal and expansion of Québec's social economy bloc.
RÉSUMÉ
Cette étude utilise la théorie de l'hégémonie de Gramsci et la méthode par le mouvement social pour le développement des coopératives afin d'enquêter sur l'écart qui s'est creusé entre les provinces du Québec et de la Saskatchewan de 1980 à 2010 en ce qui a trait au développement des coopératives. Tout d'abord, pour établir la portée et l'échelle empiriques de cet écart, cette étude compare la croissance de ce secteur entre les deux provinces. Ensuite, l'origine de l'écart et sa signification historique sont mis en lumière grâce aux recherches historiques et aux conclusions tirées de l'étude sur le terrain. Finalement, il est conclut dans cet article que l'écart de développement a été majoritairement créé par la formation et la dissolution de blocs – l'érosion par le temps du bloc coopératif agraire traditionnel de la Saskatchewan ainsi que le renouveau et l'expansion du bloc d'économie sociale du Québec.
Downloads
Download data is not yet available.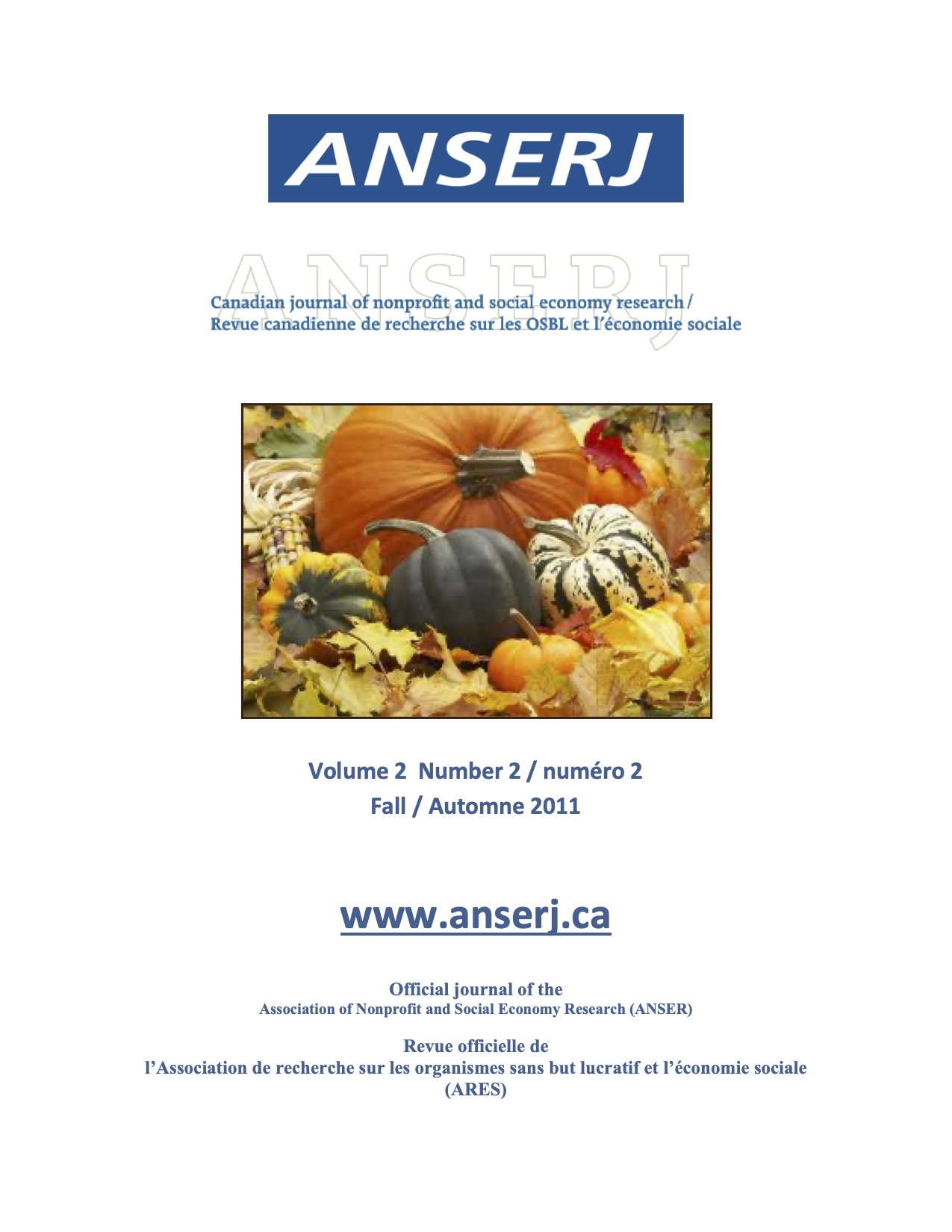 Downloads
License
Submission of an original manuscript to the Canadian Journal of Nonprofit and Social Economy Research / Revue canadienne de re­cherche sur les OSBL et l'économie sociale [thereafter ANSERJ] will be taken to mean that it represents original work not previously published, and that it is not being considered elsewhere for publication.
The journal takes the stance that the publication of scholarly research is meant to disseminate knowledge and, in a not-for-profit regime, benefits neither publisher nor author financially. It sees itself as having an obligation to its authors and to society to make content available online now that the technology allows for such a possibility. In keeping with this principle, the journal will publish all of its issues online.
Authors who publish in the ANSERJ agree to release their articles under the Creative Commons Attribution-Noncommercial-No Derivative Works 4.0 International Licence (CC BY-NC-ND 4.0). This licence allows anyone to copy and distribute the article for non-commercial purposes provided that appropriate attribution is given. For details of the rights an author grants users of their work, please see the licence summary and the full licence.