Multi-stakeholder Governance in Cooperative Organizations: Toward a New Framework for Research?
Keywords:
Governance, Cooperatives, Multi-stakeholder / Gouvernance, Coopératives, Coopératives de solidarité
Abstract
ABSTRACT
Despite the increasing popularity of multi-stakeholder cooperatives, social-economy researchers largely predict that these organizations will fail. Using a "cost of decision-making" approach, these researchers conclude that the governance structure of multi-stakeholder cooperatives makes this organizational model fundamentally untenable. In this paper, we review the empirical evidence available on multi-stakeholder cooperatives, which suggests that different groups of actors are able to govern themselves successfully. Consequently, we argue that the literature that has focused on the management of common pool resources by self-organized groups may be an appropriate body of literature in which to root a research program on these social-economy organizations.
RÉSUMÉ
Malgré la popularité grandissante des coopératives à multiples intervenants, les chercheurs en économie sociale prédisent que ces organisations essuieront un échec. Grâce à une méthode des coûts pour la prise de décisions, ces chercheurs en viennent à la conclusion que la structure de gouvernance des coopératives à multiples intervenants, par sa nature, en fait un modèle organisationnel indéfendable. Dans cet article, nous examinons les éléments de preuve empiriques disponibles sur les coopératives à multiples intervenants, qui suggèrent que différents groups d'actants peuvent réussir à s'autogérer. Par conséquent, nous discutons du fait que la documentation qui porte sur la gestion des ressources communes par les groupes autogérés pourrait constituer un corpus approprié pour établir un programme de recherche sur ces organisations d'économie sociale.
Downloads
Download data is not yet available.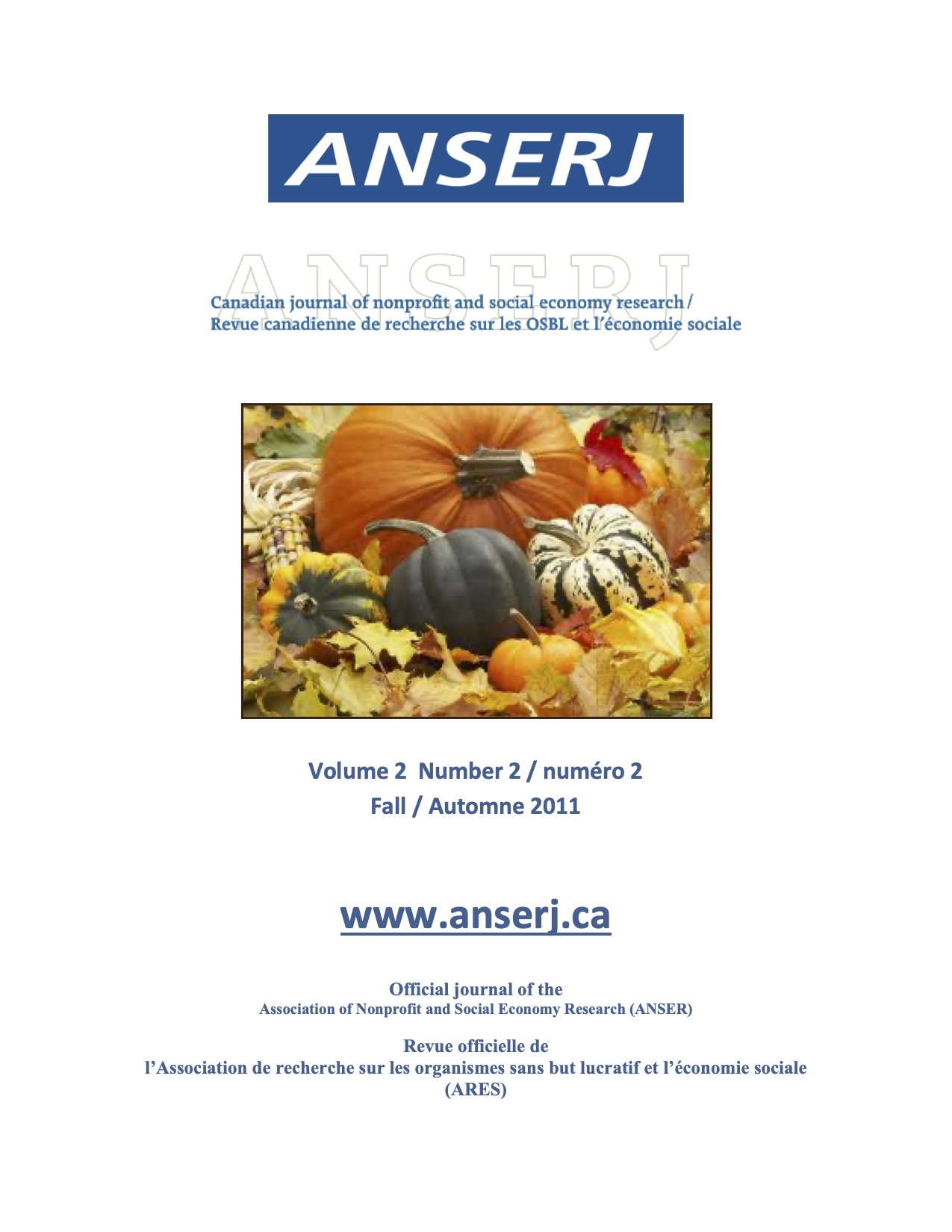 Downloads
License
Submission of an original manuscript to the Canadian Journal of Nonprofit and Social Economy Research / Revue canadienne de re­cherche sur les OSBL et l'économie sociale [thereafter ANSERJ] will be taken to mean that it represents original work not previously published, and that it is not being considered elsewhere for publication.
The journal takes the stance that the publication of scholarly research is meant to disseminate knowledge and, in a not-for-profit regime, benefits neither publisher nor author financially. It sees itself as having an obligation to its authors and to society to make content available online now that the technology allows for such a possibility. In keeping with this principle, the journal will publish all of its issues online.
Authors who publish in the ANSERJ agree to release their articles under the Creative Commons Attribution-Noncommercial-No Derivative Works 4.0 International Licence (CC BY-NC-ND 4.0). This licence allows anyone to copy and distribute the article for non-commercial purposes provided that appropriate attribution is given. For details of the rights an author grants users of their work, please see the licence summary and the full licence.