Measuring Performance for Accountability of a Small Social Economy Organization: The Case of an Independent School
Keywords:
Non-profit democratic organization, Measuring performance, Balanced accountability in schools /Organisation démocratique sans but lucratif, Mesure du rendement, Responsabilité équilibrée dans les écoles
Abstract
ABSTRACT
This article is a result of a joint project in social economy research between a community partner-an independent school-and academic partners. The school is a democratic organization, run by teachers and parents. The goal of the project was to find ways to improve communication and reporting about general performance of the school as part of the school's accountability to its members. Starting from lessons of the balanced scorecard approach for non-profits, we describe the process of development of survey-based measures for the particular organization. The direction of the tool development and subsequent organizational changes were carried out in a participatory process between the school's staff, the parents, and the board. We identify the limitations and challenges of this process, and outline its successes to draw lessons for other similar democratic organizations.
RÉSUMÉ
Cet article est le produit d'un projet conjoint de recherche sur l'économie sociale entre un partenaire communautaire-une école privée-et des partenaires académiques. L'école est une organisation démocratique dirigée par des enseignants et des parents. Le but de ce projet était de trouver des façons d'améliorer la communication et la reddition de compte en ce qui a trait au rendement général de l'école comme faisant partie de la responsabilité de l'école envers ses membres. En commençant par des leçons sur l'approche de tableau de bord équilibré pour les organismes sans but lucratif, nous abordons le processus de l'élaboration de mesures fondées sur des enquêtes pour l'organisation particulière. L'orientation du développement d'outils et des changements organisationnels subséquents ont été déterminés lors d'un processus participatif entre le personnel de l'école, les parents et la direction. Nous établissons les limites et les défis de cette façon de procéder et en soulignons les réussites pour tirer des leçons qui serviront à d'autres organisations démocratiques comparables.
Downloads
Download data is not yet available.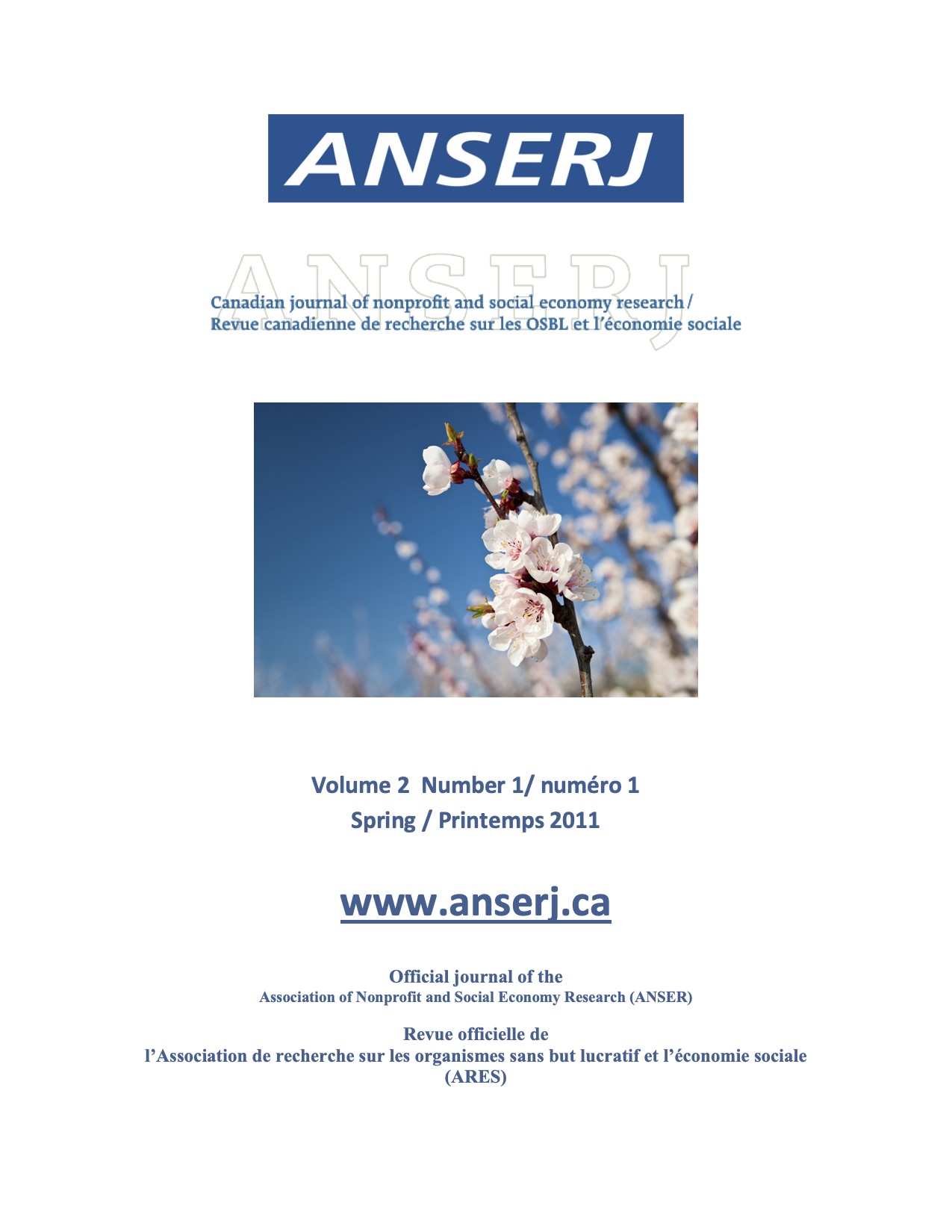 Downloads
License
Submission of an original manuscript to the Canadian Journal of Nonprofit and Social Economy Research / Revue canadienne de re­cherche sur les OSBL et l'économie sociale [thereafter ANSERJ] will be taken to mean that it represents original work not previously published, and that it is not being considered elsewhere for publication.
The journal takes the stance that the publication of scholarly research is meant to disseminate knowledge and, in a not-for-profit regime, benefits neither publisher nor author financially. It sees itself as having an obligation to its authors and to society to make content available online now that the technology allows for such a possibility. In keeping with this principle, the journal will publish all of its issues online.
Authors who publish in the ANSERJ agree to release their articles under the Creative Commons Attribution-Noncommercial-No Derivative Works 4.0 International Licence (CC BY-NC-ND 4.0). This licence allows anyone to copy and distribute the article for non-commercial purposes provided that appropriate attribution is given. For details of the rights an author grants users of their work, please see the licence summary and the full licence.