Advocacy Limitations on Gender and Sexually Diverse Activist Organizations in Canada's Voluntary Sector
Keywords:
Activism, Advocacy, Gender and sexually diverse populations, Voluntary sector Militantisme, Défense d'une cause, Populations de genre et de sexualité, Secteur bénévole
Abstract
ABSTRACT
Registered charities are restricted when engaging in advocacy, whereas Canadian nonprofits face a far more difficult time when fundraising. The impact of such limitations on Canadian gender and sexually diverse1 activist organizations is one example of the implications on Canada's democratization process. Despite the efforts of the Voluntary Sector Initiative (VSI), and updated political activity policies, Canada lags behind both the U.K. and U.S. in recognizing and legitimizing advocacy as an important contribution to its democratic process. An organized challenge of the system at the political and legal level is called for to address this issue.
RÉSUMÉ
Les organismes de bienfaisance enregistrés font face à des contraintes lorsqu'ils défendent une cause, tandis que les organismes sans but lucratif rencontrent de nombreuses difficultés pour amasser des fonds. L'impact de ces contraintes sur les organisations militantes de genre et de sexualité diversifiés n'est qu'un exemple de répercussion sur le procédé de démocratisation du Canada. Malgré les efforts déployés par l'Initiative sur le secteur bénévole et communautaire (ISBC) et malgré la mise à jour de politiques sur l'activité politique, le gouvernement du Canada a du retard par rapport à ceux du Royaume-Uni et des États-Unis en matière de reconnaissance et de légitimation de la défense de causes en tant que contribution importante à son processus démocratique. Pour aborder cette question, nous sommes amenés à remettre en question le système de façon méthodique sur les plans politique et juridique.
Downloads
Download data is not yet available.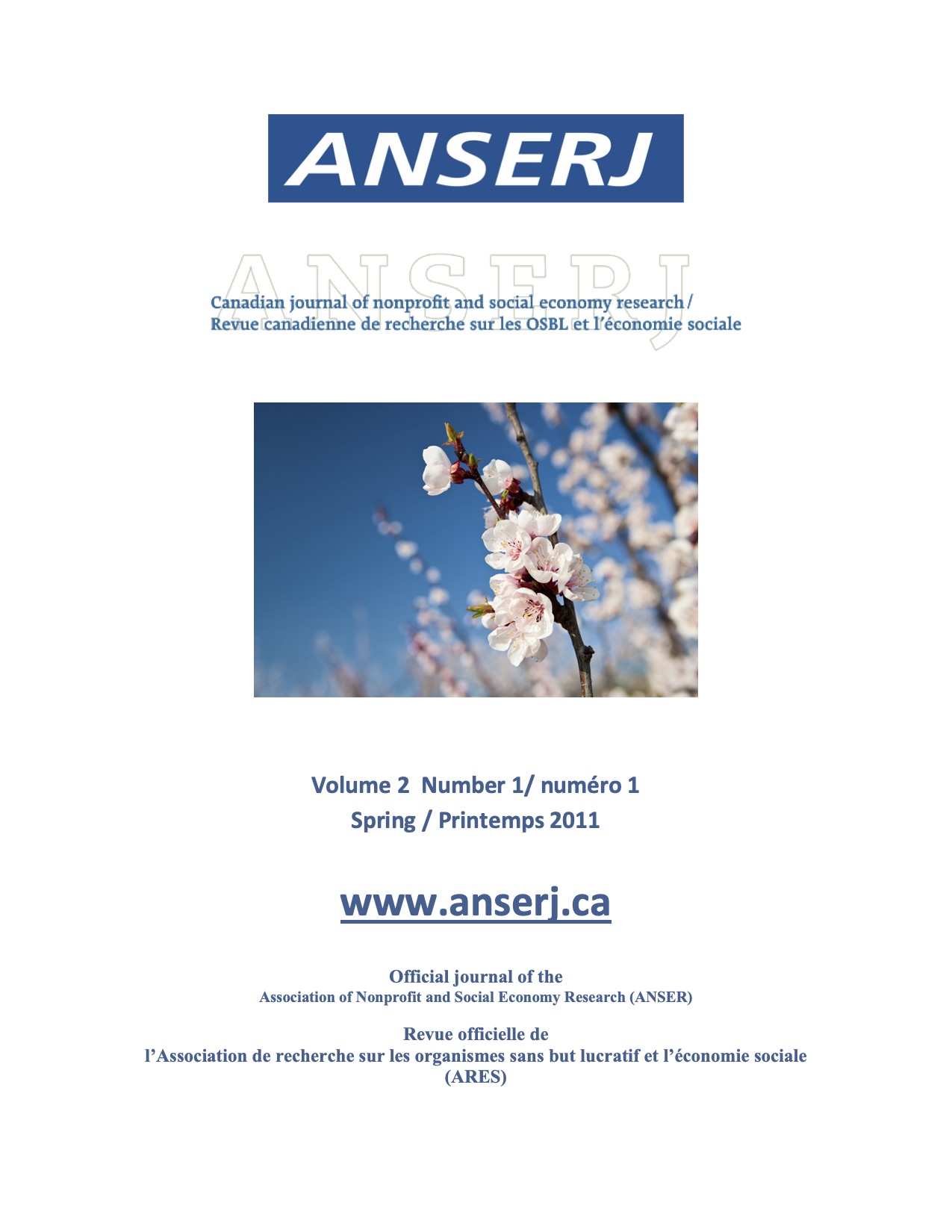 Downloads
License
Submission of an original manuscript to the Canadian Journal of Nonprofit and Social Economy Research / Revue canadienne de re­cherche sur les OSBL et l'économie sociale [thereafter ANSERJ] will be taken to mean that it represents original work not previously published, and that it is not being considered elsewhere for publication.
The journal takes the stance that the publication of scholarly research is meant to disseminate knowledge and, in a not-for-profit regime, benefits neither publisher nor author financially. It sees itself as having an obligation to its authors and to society to make content available online now that the technology allows for such a possibility. In keeping with this principle, the journal will publish all of its issues online.
Authors who publish in the ANSERJ agree to release their articles under the Creative Commons Attribution-Noncommercial-No Derivative Works 4.0 International Licence (CC BY-NC-ND 4.0). This licence allows anyone to copy and distribute the article for non-commercial purposes provided that appropriate attribution is given. For details of the rights an author grants users of their work, please see the licence summary and the full licence.