Educating Young People in "Collective Entrepreneurship": Challenges and Tensions at the Heart of Collective Entrepreneurship Initiation Cooperatives in Québec
Keywords:
Cooperative entrepreneurship; Experiential learning; Education in the social and solidarity eco- nomy (SSE) / Entrepreneuriat collectif; Apprentissage expérientiel; Éducation à l'économie sociale et solidaire (ESS)
Abstract
This article focuses on the Coopératives d'initiation à l'entrepreneuriat collectif (CIEC), youth service cooperatives in Quebec that aim at educating young people in cooperative entrepreneurship. Basing ourselves on a qualitative design involving non-participant observation and semi-structured interviews with CIEC coordinators, we explore the conceptions of cooperative entrepreneurship promoted by the coordinators and the experiential learning outcomes that they aim for. The results suggest that the multiple objectives embraced by the CIEC project (giving young people a first working experience, fostering in them an entrepreneurship mindset, introducing them to cooperatives, and educating them about the social and solidarity economy) run the risk of diluting the project's learning impacts.
Downloads
Download data is not yet available.
References
Alberio, M. et Tremblay, D-G. (2014). De la vision à l'action : la performance dans les entreprises d'insertion du Québec. ANSERJ, 5(1), 21–40.
Allen, S. J. (2018). Yes! And... I'm so tired of experiential learning. Journal of Management Education, 42(2), 306–312. Bazeley, P. J., K. (2013). Qualitative data analysis with NVivo. London: Sage.
Bradford, D. L. (2019). Ethical issues in experiential learning. Journal of Management Education, 43(1), 89–98.
Claude, M. et Gaudet, S. (2018). L'entrepreneur social, une catégorie émergente au Québec. Revue canadienne de recherche sur les OBSL et l'économie sociale, 9(1), 44–57.
Comeau, Y. (1998). Apports et limites de l'éducation à l'économie sociale. Cahiers de la recherche en éducation, 5(3), 465–489.
Cornforth C. (2004). The governance of cooperatives and mutual associations: A paradox perspective. Annals of Public & Cooperative Economics, 75(1), 11–32.
Douglas, H. (2015). Designing social entrepreneurship education. International Journal of Social Entrepreneurship and Innovation, 3(5), 362–373.
Favreau, L. et Lévesque, B. (1991). Les coopératives jeunesses de services : évaluation d'une entreprise d'insertion sociale. sociale. Chaire de Coopération Guy-Bernier. Montréal : UQÀM.
Fayolle A., (2012). Entrepreneuriat. Apprendre à entreprendre. 2e édition. Paris : Dunod.
Fontan, J-M. (2011). Entrepreneuriat social et entrepreneuriat collectif : synthèse et constats. Revue canadienne de recherche sur les OBSL et l'économie sociale, 2(2), 37–56.
Fontan, J-M. et Bouchard, M. (1997). Les coopératives jeunesse de services : apprentissage multidimensionnel, impact éducatif et complémentarité à l'environnement scolaire. Chaire de Coopération Guy-Bernier. Montréal : UQÀM.
Katsikis, I. N. et Kyrgidou, L. P. (2016). Social policy and social entrepreneurship: Between the public and the private. Innovation and Entrepreneurship in Education, 2, 91–106.
Kolb, D. A. (2004 [1984]). Experiential learning: Experience as the source of learning and development. Upper Saddle River, NJ: Pearson Education.
Lange, J. M. (2018). Éducations à: penser l'articulation des savoirs et des valeurs au service de l'agir sociétal. L'exemple révélateur de l'éducation au développement durable. Éducation et socialisation. Les Cahiers du CERFEE (48).
Lapoutte, A. et Chevillard, F. (2017). L'éducation à l'ESS chez les jeunes via l'expérience : l'exemple des Coopératives jeunesse de services. Marrakech, Maroc : Forum international de l'ESS 2017.
Maunaye, E. et Poisson, F. (2017). L'action collective des adolescents : premiers pas d'entrepreneurs? Agora débats/jeunesses, 1(75), 89–101.
Michaud, V. (2011). Proposition pour l'étude des tensions dans le mouvement, la socio-matérialité et le paradoxe. Communiquer, 5, 47–74.
Novkovic, S. (2006). Co-operative business: the role of co-operative principles and values. Journal of Co-operative Studies, 39(1), 5–15.
Paillé, P. et Mucchielli, A. (2012). L'analyse thématique. Dans : P. Paillé & A. Mucchielli (dir.), L'analyse qualitative en sciences humaines et sociales. Paris: Armand Colin, pp. 231–314.
Pires, A. (1997). Échantillonnage et recherche qualitative : essai théorique et méthodologique. Dans : J. Poupart et al. (dir.), La recherche qualitative : enjeux épistémologiques et méthodologiques. Montréal : Gaëtan Morin Éditeur, pp. 113–169. Parodi, M. (2007). L'UCE: la pédagogie coopérative en actes. RECMA, 306, 22–36.
Rospabé, S. (2014). L'éducation à l'ESS : nouveau champ d'action pour l'animation socioculturelle? Revue ATPS, 6, 105–118.
Roy, M. (2016). Synthèse de connaissances : l'entrepreneuriat social et l'entreprise sociale. TIESS.
Stohl, C. et Cheney, G. (2001). Participatory processes/paradoxical practices. Communication and the dilemma of organizational democracy. Management Communication Quarterly, 14, 349–407.
Sundaramurthy, C. et Lewis, M. (2003). Control and collaboration: Paradoxes and governance. The Academy of Management Review, 28(3), 397–415.
Verzat, C. et Toutain, O. (2015). Former et accompagner des entrepreneurs potentiels, diktat ou défi? Savoirs, 3(39), 11–63.
Veyer, S. et Sangiorgio, J. (2006). L'entrepreneuriat collectif comme produit et projet d'entreprises épistémiques : le cas des Coopératives d'activités et d'emploi. Revue de l'Entrepreneuriat, 5(2), 89–102.
Wright, A., Hibbert, P., Strong, R., et Edwards, M. (2018). Exposing practical, psychological, and pedagogical shadow sides of experiential learning. Journal of Management Education, 42(6), 761–771.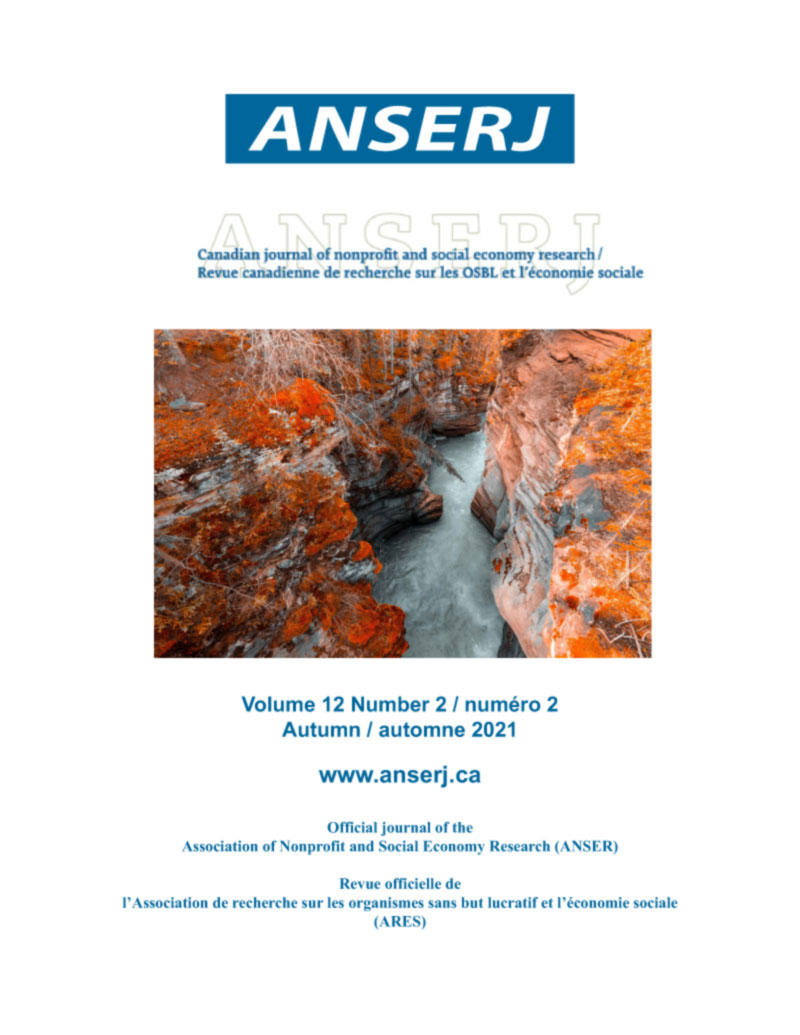 Downloads
License
Copyright (c) 2021 Melissa Ziani, Français Français, Français Français
This work is licensed under a Creative Commons Attribution-NonCommercial-NoDerivatives 4.0 International License.
Submission of an original manuscript to the Canadian Journal of Nonprofit and Social Economy Research / Revue canadienne de re­cherche sur les OSBL et l'économie sociale [thereafter ANSERJ] will be taken to mean that it represents original work not previously published, and that it is not being considered elsewhere for publication.
The journal takes the stance that the publication of scholarly research is meant to disseminate knowledge and, in a not-for-profit regime, benefits neither publisher nor author financially. It sees itself as having an obligation to its authors and to society to make content available online now that the technology allows for such a possibility. In keeping with this principle, the journal will publish all of its issues online.
Authors who publish in the ANSERJ agree to release their articles under the Creative Commons Attribution-Noncommercial-No Derivative Works 4.0 International Licence (CC BY-NC-ND 4.0). This licence allows anyone to copy and distribute the article for non-commercial purposes provided that appropriate attribution is given. For details of the rights an author grants users of their work, please see the licence summary and the full licence.