Non-credit Nonprofit Management Education: Beyond Mapping and Towards Critical Qualitative Inquiry
Keywords:
Nonprofit management education, Non-credit nonprofit management education, Canada, Postsecondary certificates, Continuing education, Syllabi review, Critical qualitative inquiry, Instructor reflexivity, Formation en gestion des organismes sans but lucratif, Formation sans crédit en gestion des organismes sans but lucratif, Certificats postsecondaires, Formation continue, Revue de plans de cours, Enquête qualitative critique, Réflexivité de l'enseignant
Abstract
Nonprofit management education (NME) has received attention from scholars and practitioners over the past thirty years. Much of the research on NME focuses on credit-based university courses, primarily reflecting a U.S. context. Left out of analyses are non-credit NME offerings. This article relocates to an English-speaking Canadian landscape where a substantial number of non-credit NME courses are found. Mapping methodologies, favoured to showcase the breadth of NME, cannot offer deeper insight into questions and critiques of non-credit NME curriculum and instruction. This article shows how syllabi review and critical qualitative inquiry can deepen knowledge of non-credit offerings. A new research agenda for non-credit NME is required to support nonprofit managers to achieve their social goals.
RÉSUMÉ
Depuis une trentaine d'années, la formation en gestion des organismes sans but lucratif (OSBL) a retenu l'attention d'universitaires et de praticiens. Cependant, une grande partie de leurs recherches sur la gestion des OSBL se concentre sur des cours universitaires offrant des crédits, et reflète un contexte principalement américain. Les cours sans crédit sur la gestion des OSBL sont omis des analyses. Cet article se focalise sur un paysage canadien anglophone où l'on retrouve un nombre important de cours sans crédit sur la gestion des OSBL. Certaines méthodologies de schématisation, privilégiées pour mettre en valeur la portée de tels cours, sont inefficaces pour offrir un aperçu plus approfondi des questions et critiques concernant le curriculum et l'enseignement de cours sans crédit sur la gestion des OSBL. Cet article montre comment la revue de plans de cours et l'enquête qualitative critique peuvent en revanche servir à approfondir la connaissance de ces cours sans crédit. Ainsi, un nouveau programme de recherche pour les cours sans crédit sur la gestion des OSBL s'avère nécessaire pour aider les gestionnaires d'OSBL à atteindre leurs objectifs sociaux.
Downloads
Download data is not yet available.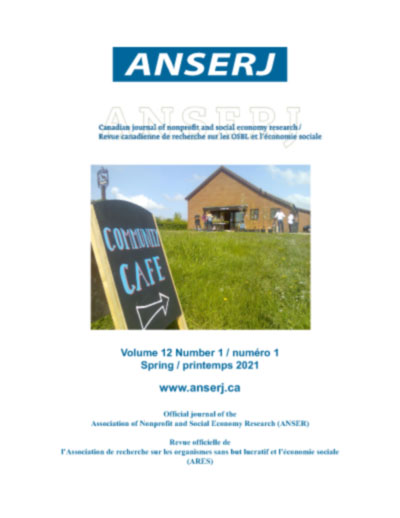 Downloads
License
Copyright (c) 2021 Michele Fugiel Gartner
This work is licensed under a Creative Commons Attribution-NonCommercial-NoDerivatives 4.0 International License.
Submission of an original manuscript to the Canadian Journal of Nonprofit and Social Economy Research / Revue canadienne de re­cherche sur les OSBL et l'économie sociale [thereafter ANSERJ] will be taken to mean that it represents original work not previously published, and that it is not being considered elsewhere for publication.
The journal takes the stance that the publication of scholarly research is meant to disseminate knowledge and, in a not-for-profit regime, benefits neither publisher nor author financially. It sees itself as having an obligation to its authors and to society to make content available online now that the technology allows for such a possibility. In keeping with this principle, the journal will publish all of its issues online.
Authors who publish in the ANSERJ agree to release their articles under the Creative Commons Attribution-Noncommercial-No Derivative Works 4.0 International Licence (CC BY-NC-ND 4.0). This licence allows anyone to copy and distribute the article for non-commercial purposes provided that appropriate attribution is given. For details of the rights an author grants users of their work, please see the licence summary and the full licence.