Pathways to Local Partnerships in a Semi-Rural Setting: A Qualitative Study of Community Engagement and Employer-Supported Volunteering in Small and Medium Enterprises and Local Nonprofits
Abstract
There remains a knowledge gap regarding the factors that drive the development of business-nonprofit partnerships in the context of employer-supported volunteering—especially in small and medium enterprises. Furthermore, there is a need to consider how enterprises operate in their cultural contexts to better understand how they support volunteering trends in Canada. This study aimed to improve understanding of the multi-level factors that foster the development of business-nonprofit partnerships in the context of employer-supported volunteering. Fifteen semi-structured interviews were conducted with community and small business actors in a semi-rural setting in Francophone Québec. Results challenged the traditional view of volunteer support as a distinct activity, showing an integrated system of inter-dependence. Results suggest the relevance of conceptualizing small enterprises' support of volunteering as part of an inclusive approach to community engagement.
RÉSUMÉ
Les facteurs liés au développement de partenariats entre entreprises et OBNL dans le contexte du bénévolat appuyé par l'employeur sont méconnus – particulièrement au sein des petites et moyennes entreprises. Il est également pertinent de considérer le contexte culturel pour mieux comprendre les tendances canadiennes du bénévolat appuyé par l'employeur. Cette étude vise l'obtention d'une meilleure compréhension des facteurs multiniveaux associés au développement de partenariats entreprises-OBNL dans le contexte du soutien au bénévolat. Quinze entretiens semistructurés ont été effectués auprès d'acteurs du secteur communautaire et des petites entreprises dans un milieu semi-rural francophone-québécois. Les résultats repositionnent la notion d'activités distinctes et témoignent plutôt d'un système intégré d'interdépendances. Les résultats suggèrent de conceptualiser le soutien au bénévolat des petites entreprises au sein d'une approche inclusive d'engagement communautaire.
Downloads
Download data is not yet available.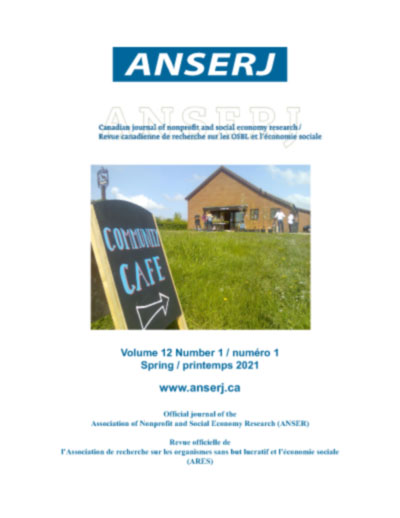 Downloads
License
Copyright (c) 2021 Myriam Gagnon, Myriam Beaudry, Louise Lemyre, Alexandra Guay-Charette
This work is licensed under a Creative Commons Attribution-NonCommercial-NoDerivatives 4.0 International License.
Submission of an original manuscript to the Canadian Journal of Nonprofit and Social Economy Research / Revue canadienne de re­cherche sur les OSBL et l'économie sociale [thereafter ANSERJ] will be taken to mean that it represents original work not previously published, and that it is not being considered elsewhere for publication.
The journal takes the stance that the publication of scholarly research is meant to disseminate knowledge and, in a not-for-profit regime, benefits neither publisher nor author financially. It sees itself as having an obligation to its authors and to society to make content available online now that the technology allows for such a possibility. In keeping with this principle, the journal will publish all of its issues online.
Authors who publish in the ANSERJ agree to release their articles under the Creative Commons Attribution-Noncommercial-No Derivative Works 4.0 International Licence (CC BY-NC-ND 4.0). This licence allows anyone to copy and distribute the article for non-commercial purposes provided that appropriate attribution is given. For details of the rights an author grants users of their work, please see the licence summary and the full licence.