Governance in Transformation: Alberta School Board Chairs' Perspectives on Governance
Keywords:
Governance, School board, Education, Legislation, Transformation, Alberta / Gouvernance, Conseil scolaire, Éducation, Législation, Alberta
Abstract
ABSTRACT
School boards are typically removed from nonprofit sector analyses because they are part of the "MUSH" set of organizations (municipalities, universities, schools, and hospitals) that both stand outside of the more typical nonprofit sector and tend to be closely affiliated with government. Nevertheless, school boards offer a unique opportunity to examine the governance of a large system of regulated activity that affects millions of citizens. How such systems should be governed has been a matter of concern for nearly 40 years. This study presents data from Alberta school board chairs regarding their perception of governance transformation being brought about by legislative changes. Five dimensions of governance are proposed as defining the current and anticipated governance domain within which school boards operate. Tensions within and between these dimensions signify symbolic boundary constructions that need to be scrutinized in anticipation of the governance transformation and boundary spanning activities of school boards required by the new legislation.
RÉSUMÉ
Les conseils scolaires sont généralement retirés des analyses du secteur communautaire parce qu'ils font partie de l'ensemble d'organisations « MUSH » (les municipalités, les universités, les écoles et les hôpitaux); ces organisations se distinguent du secteur communautaire typique et ont tendance à être étroitement associées au gouvernement. Néanmoins, les conseils scolaires offrent une occasion unique d'observer la gouvernance d'un vaste système d'activités réglementées qui affecte des millions de citoyens. La façon dont de tels systèmes devraient être gérés fait l'objet de préoccupations depuis presque 40 ans. Cette étude présente les perceptions de présidents de conseils scolaires de l'Alberta en ce qui a trait à la transformation de la gouvernance apportée par des modifications à la loi. Cinq dimensions de la gouvernance sont proposées pour définir à la fois le domaine de gouvernance dans le cadre duquel fonctionnent actuellement les conseils scolaires et celui dans le cadre duquel il est prévu qu'ils fonctionneront. Les tensions entre ces dimensions et les tensions au sein de celles-ci indiquent des constructions de frontières symboliques qui nécessitent un examen minutieux dans le but de prévoir la transformation de la gouvernance ainsi que les activités d'expansion des conseils scolaires exigées par la nouvelle législation.
Downloads
Download data is not yet available.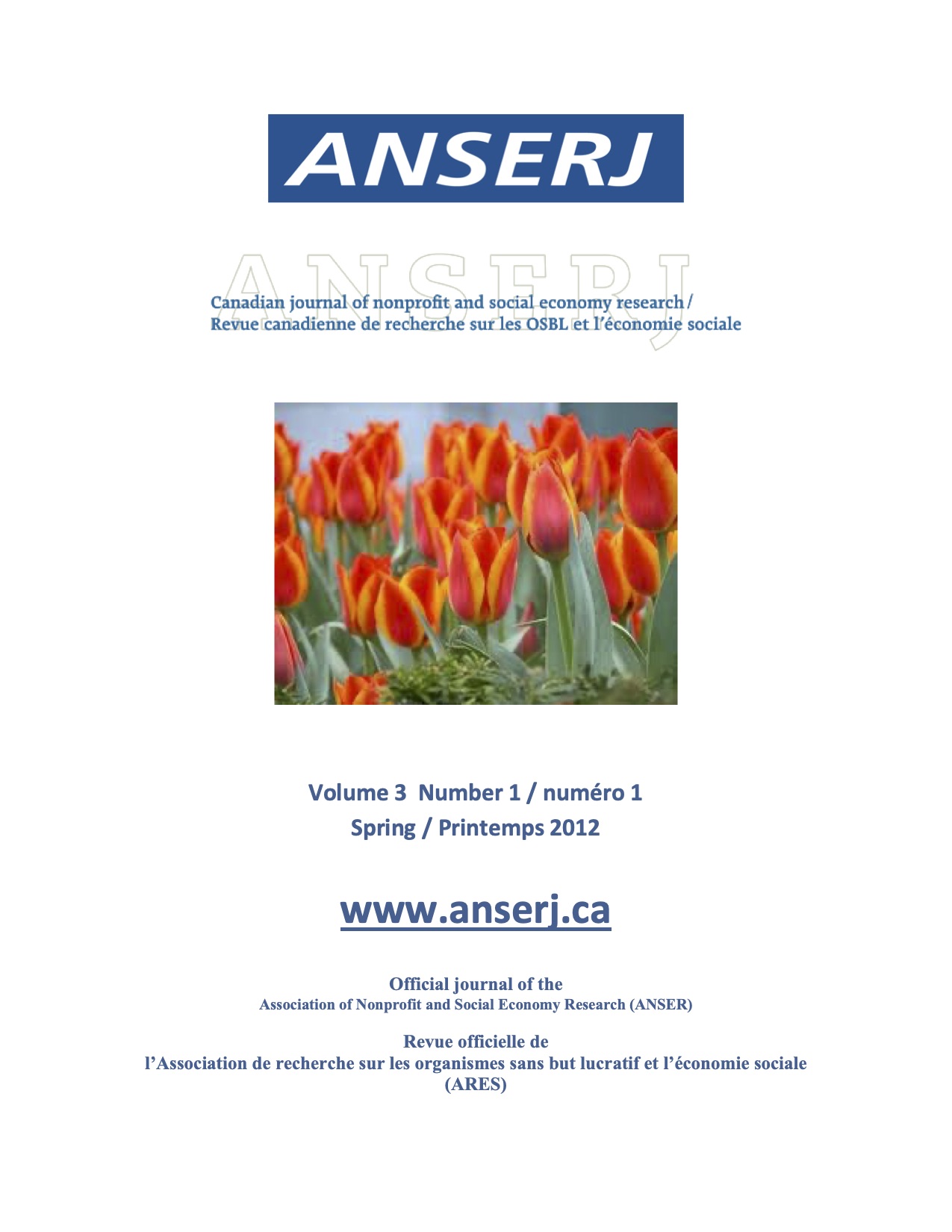 Downloads
License
Submission of an original manuscript to the Canadian Journal of Nonprofit and Social Economy Research / Revue canadienne de re­cherche sur les OSBL et l'économie sociale [thereafter ANSERJ] will be taken to mean that it represents original work not previously published, and that it is not being considered elsewhere for publication.
The journal takes the stance that the publication of scholarly research is meant to disseminate knowledge and, in a not-for-profit regime, benefits neither publisher nor author financially. It sees itself as having an obligation to its authors and to society to make content available online now that the technology allows for such a possibility. In keeping with this principle, the journal will publish all of its issues online.
Authors who publish in the ANSERJ agree to release their articles under the Creative Commons Attribution-Noncommercial-No Derivative Works 4.0 International Licence (CC BY-NC-ND 4.0). This licence allows anyone to copy and distribute the article for non-commercial purposes provided that appropriate attribution is given. For details of the rights an author grants users of their work, please see the licence summary and the full licence.