The Impact of a Community-University Collaboration: Opening the "Black Box"
Keywords:
Community based partnerships, Collaboration, Social economy, Graduate programs, Case study, University of Victoria / partenariats communautaires, collaboration, économie sociale, programme d'études supérieures, étude de cas, Université de Victoria
Abstract
ABSTRACT
Within the Social Economy, universities are working with community representatives to undertake research projects, service learning opportunities, and increasingly, academic program development, all with the objective of addressing social challenges. As many are quick to caution, the community is actually a sum of its various actors, interests, accountabilities and needs, which university staff and faculty must work to understand. Like the community, the university is a complex organization with politics, conflicts, tensions, and competing goals and objectives. Within this larger context, these various components, focusing on government, academic and administrative stakeholders, will impact and may even limit aspects of a collaboration between the university and its community partners. Through examination of a case study related to a graduate program, which was collaboratively developed between the university and community representatives, this article will identify and explore those accountabilities and the resulting impact on the collaboration. It will conclude withrecommendations for similar partnerships.
RÉSUMÉ
Dans l'économie sociale, les universités travaillent de pair avec des représentants de la communauté pour lancer des projets de recherche, créer des occasions d'apprentissage par le service et, de plus en plus, développer des programmes d'études universitaires; tout cela dans le but de régler des défis sociaux. Beaucoup s'empressent de formuler une mise en garde : la communauté est en réalité la somme des divers acteurs, intérêts, responsabilités et besoins qui la composent, ce que les membres du personnel et les facultés des universités doivent tenter de comprendre par leur travail. Au même titre qu'une communauté, une université est une organisation complexe constituée de politiques, de conflits, de tensions ainsi que d'objectifs concurrents. Dans ce contexte large, ces diverses composantes, en particulier les intervenants gouvernementaux, universitaires et administratifs, auront des conséquences sur la collaboration entre l'université et ses partenaires communautaires, et peuvent même en limiter certains aspects. Cette étude définit et analyse ces responsabilités et leurs conséquences sur la collaboration par le moyen d'une étude de cas liée à un programme d'études supérieures développé grâce à la collaboration de l'université et des représentants de la communauté. L'étude se termine par des recommandations visant des partenariats similaires.
Downloads
Download data is not yet available.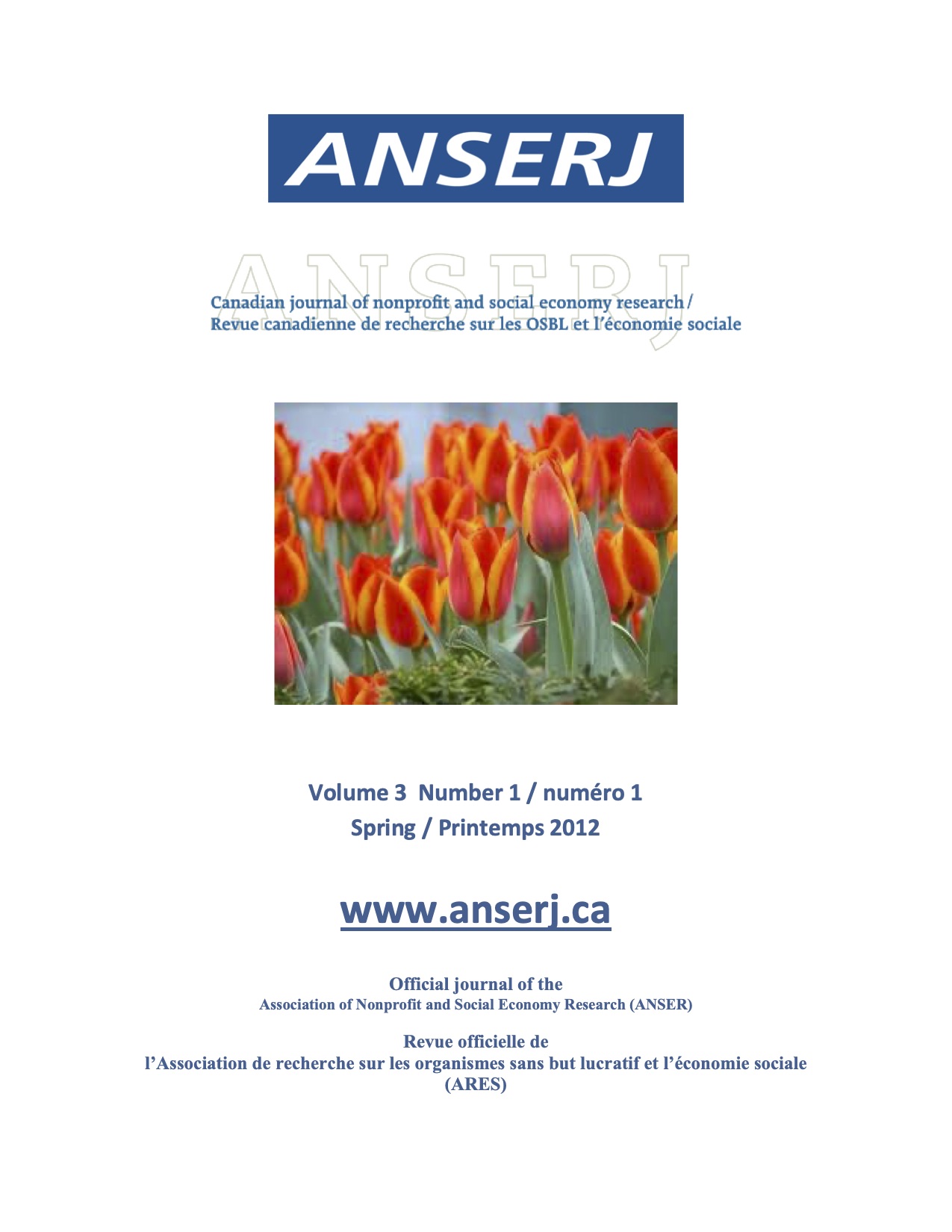 Downloads
License
Submission of an original manuscript to the Canadian Journal of Nonprofit and Social Economy Research / Revue canadienne de re­cherche sur les OSBL et l'économie sociale [thereafter ANSERJ] will be taken to mean that it represents original work not previously published, and that it is not being considered elsewhere for publication.
The journal takes the stance that the publication of scholarly research is meant to disseminate knowledge and, in a not-for-profit regime, benefits neither publisher nor author financially. It sees itself as having an obligation to its authors and to society to make content available online now that the technology allows for such a possibility. In keeping with this principle, the journal will publish all of its issues online.
Authors who publish in the ANSERJ agree to release their articles under the Creative Commons Attribution-Noncommercial-No Derivative Works 4.0 International Licence (CC BY-NC-ND 4.0). This licence allows anyone to copy and distribute the article for non-commercial purposes provided that appropriate attribution is given. For details of the rights an author grants users of their work, please see the licence summary and the full licence.