Cooperatives and the State: The Case of Ontario
Keywords:
Cooperative sector, Advocacy, Ontario politics / Mouvement coopératif, Action sociale, Politiques ontariennes
Abstract
In the early 2000s, the cooperative movement in Ontario came together in order to lobby its provincial government for active cooperative development support programs. Momentum was building for these types of programs. Already, many provincial governments had implemented active support programs in their jurisdiction. Despite having one of the largest cooperative sectors in Canada, Ontario was lagging behind. This article assesses the progress of the efforts of the Ontario cooperative movement to date. It details how the Ontario cooperative movement developed a sectoral identity for itself and framed its objectives in an effort to strengthen its relationship with the Ontario government.
RÉSUMÉ
Le mouvement coopératif en Ontario s'est rassemblé au début des années 2000 afin de faire pression sur le gouvernement provincial pour qu'il développe des programmes de soutient actif pour coopératives. Déjà plusieurs gouvernements provinciaux avaient mis en place de telles politiques. L'Ontario tardait malgré le fait qu'il avait un des plus grands secteurs coopératifs au Canada. Cet article examine le progrès qu'a connu le mouvement coopératif en Ontario dans ses efforts. Il décrit comment le mouvement coopératif a construit une identité sectorielle autour de laquelle il a pu ancrer ses demandes auprès du gouvernement ontarien.
Downloads
Download data is not yet available.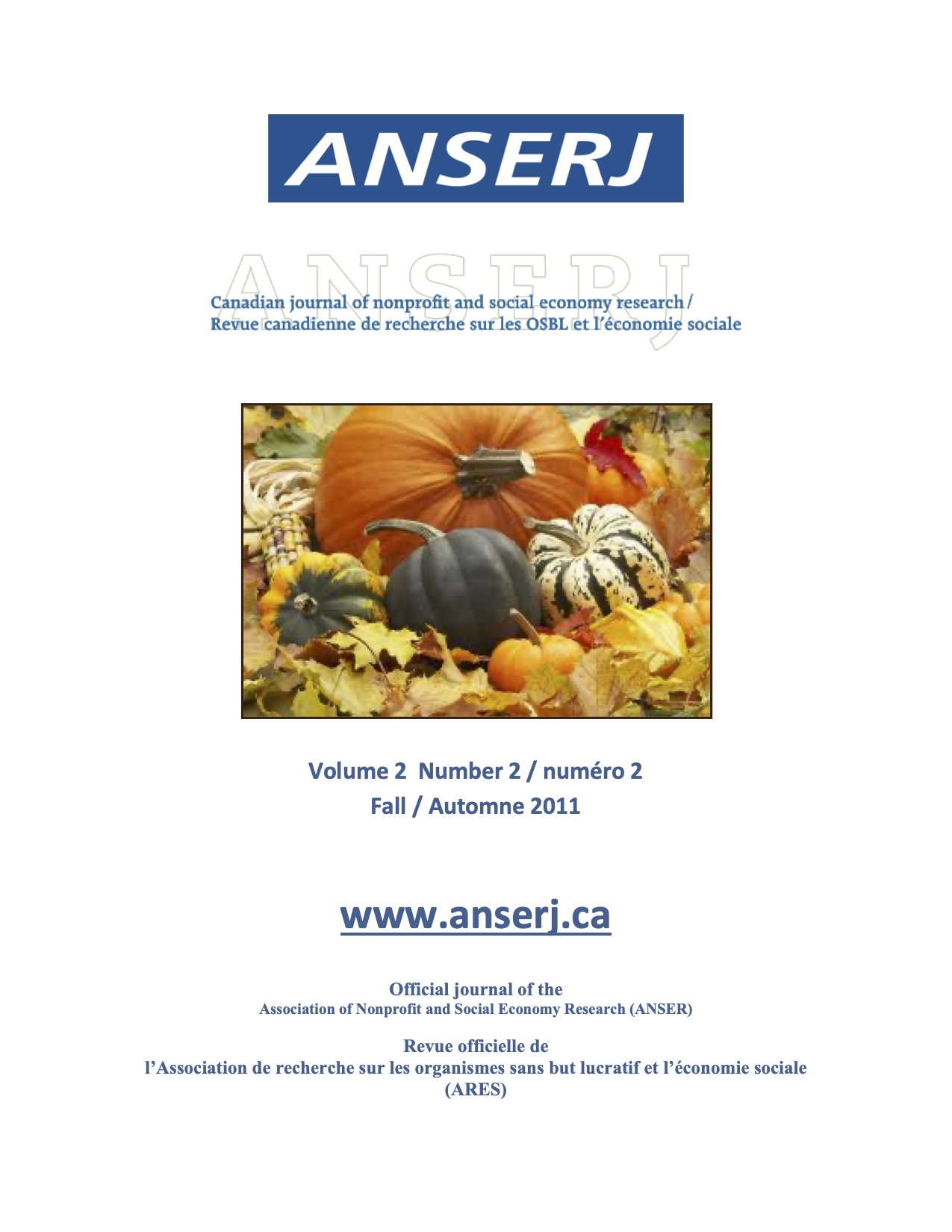 Downloads
License
Submission of an original manuscript to the Canadian Journal of Nonprofit and Social Economy Research / Revue canadienne de re­cherche sur les OSBL et l'économie sociale [thereafter ANSERJ] will be taken to mean that it represents original work not previously published, and that it is not being considered elsewhere for publication.
The journal takes the stance that the publication of scholarly research is meant to disseminate knowledge and, in a not-for-profit regime, benefits neither publisher nor author financially. It sees itself as having an obligation to its authors and to society to make content available online now that the technology allows for such a possibility. In keeping with this principle, the journal will publish all of its issues online.
Authors who publish in the ANSERJ agree to release their articles under the Creative Commons Attribution-Noncommercial-No Derivative Works 4.0 International Licence (CC BY-NC-ND 4.0). This licence allows anyone to copy and distribute the article for non-commercial purposes provided that appropriate attribution is given. For details of the rights an author grants users of their work, please see the licence summary and the full licence.