Role Commitment and Role Maintenance Strategies: A Symbolic interactionist Approach to Volunteering
Keywords:
Role commitment; Role theory; Social roles; Role maintenance strategies; Symbolic interactionist approach; Volunteering / Engagement envers un rôle; Théorie des rôles; Rôles sociaux; Stratégies d'entretien des rôles; Interactionnisme symbolique; Bénévolat
Abstract
There are numerous reports on the rates of attrition among volunteers as a persistent challenge for organizations. In explaining volunteer attrition, researchers have predominantly: 1) provided an individualistic account of volunteering; 2) overlooked the interactional dimension of volunteer work and the crucial role of interpretation in its development; and 3) assumed commitment as a function of satisfaction with volunteering experience. Drawing on the theoretical insights of a symbolic interactionist approach, this article contends that volunteers' role commitment hinges on their satisfaction with their interpretation of their interaction with clients, rather than the interaction itself. This perspective calls attention to the volunteer-client dyadic interaction, gives a prominent place to the social role and its definition, and draws attention to strategies used by volunteers to sustain challenging relationship with clients.
RÉSUMÉ
Il existe de nombreux rapports sur les pourcentages de bénévoles perdus et le défi que ces pertes posent pour les organismes. Pour expliquer ces bénévoles perdus, les chercheurs ont surtout : 1) fourni des comptes rendus individualistes du bénévolat; 2) ignoré la dimension interactionnelle du bénévolat et le rôle crucial de l'interprétation dans le développement des interactions; et 3) pris pour acquis l'engagement comme indice de satisfaction des bénévoles. Se fondant sur la perspective théorique offerte par l'interactionnisme symbolique, cet article maintient que l'engagement des bénévoles dépend de la manière dont ils interprètent leurs interactions avec les clients plutôt que des interactions elles-mêmes. Cette perspective met l'accent sur l'interaction dyadique entre le bénévole et le client, donne une place de choix au rôle social et à sa définition, et attire l'attention sur les stratégies employées par les bénévoles pour gérer des rapports parfois difficiles avec leurs clients.
Downloads
Download data is not yet available.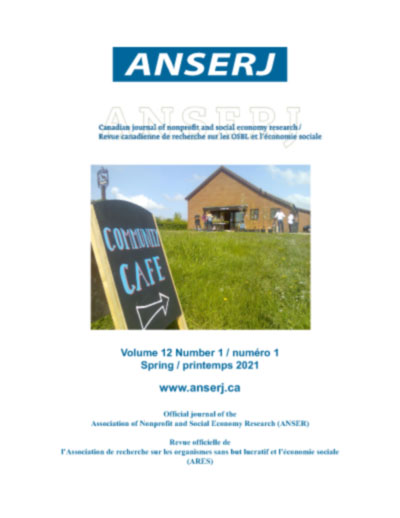 Downloads
License
Copyright (c) 2021 Behnam Behnia
This work is licensed under a Creative Commons Attribution-NonCommercial-NoDerivatives 4.0 International License.
Submission of an original manuscript to the Canadian Journal of Nonprofit and Social Economy Research / Revue canadienne de re­cherche sur les OSBL et l'économie sociale [thereafter ANSERJ] will be taken to mean that it represents original work not previously published, and that it is not being considered elsewhere for publication.
The journal takes the stance that the publication of scholarly research is meant to disseminate knowledge and, in a not-for-profit regime, benefits neither publisher nor author financially. It sees itself as having an obligation to its authors and to society to make content available online now that the technology allows for such a possibility. In keeping with this principle, the journal will publish all of its issues online.
Authors who publish in the ANSERJ agree to release their articles under the Creative Commons Attribution-Noncommercial-No Derivative Works 4.0 International Licence (CC BY-NC-ND 4.0). This licence allows anyone to copy and distribute the article for non-commercial purposes provided that appropriate attribution is given. For details of the rights an author grants users of their work, please see the licence summary and the full licence.