Système Scolaire et Économie Solidaire Chez les Nasa de Colombie
Keywords:
Premières Nations, Économie solidaire, Économie communautaire, Éducation, Nasa / First Nations, Solidarity economy, Community economy, Education, Nasa
Abstract
Le modèle scolaire développé par les Nasa de Colombie a été construit en synergie avec son mode de développement économique communautaire ancestral et sert d'assise à sa quête d'autonomie comme peuple. Cette expérience scolaire permet aux élèves de participer, dès le secondaire, à des activités économiques solidaires qui sont environnementalement responsables. Le Projet éducatif communautaire nasa (PÉC) est en effet central au modèle économique et permet la transmission concrète et quotidienne de la philosophie nasa ainsi que des pratiques ancestrales nasa. Cet article fait état d'une étude de cas menée dans le cadre d'un mémoire de maîtrise en travail social sur le site d'une école secondaire du système scolaire nasa. Elle a été menée par le biais d'observations directes et d'entretiens auprès de ses acteurs, c'est-à-dire les leaders communautaires, les éducateurs, les parents et les élèves.
In Colombia, the school system of the Nasa people integrates directly into their curriculum practical and theoretical aspects of their indigenous communitarian economy so as to contribute to their survival. This educational model calls on high school students to take charge of economic projects involving environmental and community solidarity. The Community Educational Project (PEC) is central to the Nasa educational experience that also integrates Nasa philosophy and directly supports their economic model. This case study results from fieldwork for a master's thesis in social work in one of the Nasa high schools. Data collection methods comprised direct observation and interviews with stakeholders, including community leaders, educators, parents and students.
Downloads
Download data is not yet available.
References
Alvarado, M. (2009). Situación de los pueblos indígenas en Colombia, revisión e iniciativas, INDEPAZ. Téléchargé à partir de : http://www.indepaz.org.co/index.php?searchword=Situacion+de+los+pue&ordering=&searchphrase=all&option=com_search
Asociación de Cabildos Indígenas del Norte del Cauca (ACIN). (2012). El Plan Cauca: otra trampa del gobierno para acabar con el territorio y la autonomía indígena. Pais mapuche, http://www.paismapuche.org/?p=4705
Asociación de Cabildos Indígenas del Norte del Cauca (ACIN). (2009). Los Nasa, en pie de lucha, marchan por la vida. Téléchargé à partir de : http://www.onic.org.co/actualidad.shtml?x=36131
Asociación de Cabildos Indígenas del Norte del Cauca (ACIN). (2005). Plan de vida. Dans Proyecto educativo institucional: desarrollo integral comunitario, Marco conceptual (p. 21-25). Documents d'archives.
Asociación de Cabildos Indígenas del Norte del Cauca (ACIN). (2000-2006). Proyecto Educativo Comunitario: Confirmación del eje político organizativo dans Nivel de educación media. Grados 10 y 11 (p. 89-99). Toribio, Cauca.
Asociación de Cabildos Indígenas del Norte del Cauca (ACIN). (2001). Proyecto Educativo Comunitario-PEC: didáctica del núcleo de territorio, naturaleza y producción. Primera edición, Norte del Cauca, Colombia.
Asociación de Cabildos Indígenas del Norte del Cauca (ACIN). (2000). La vida: un proyecto comunitario. Dans Cartilla pedagógica 5º básica primaria (p. 25-42). 1ère edition, Cauca, Colombia.
Bonanomi, A. (1998). El proceso de cambio antropológico en el norte del Cauca, Separata, Boletín Interacción étnica (10), Bogotá, Colombia.
Boucher, J. L. (2006). Habitat et innovation sociale : croisement entre économie sociale, mouvements sociaux et intervention publique. Économie et Solidarités, 37(1), 68-93.
Boucher, J. L. (2001). Transformations sociales et orientation de la société. Dans J. L. Boucher, G. Fotev et S. Koleva (dirs.), Mutations de société et quête de sens (p. 19-44). Sofia, Bulgarie : Éditions LIK, 19-44.
CEIDIS (2000). Conflictos y políticas interculturales: Territorios y educaciones. Cochabamba: CEIDIS, CESU, CENDA.
Colombia, Departamento Administrativo Nacional de Estadísticas (DANE). (2007). Colombia una nación multicultural: Su diversidad étnica. Bogota, Colombia : Gouvernement de Colombie.
Colombia, Ministerio de Educación Nacional (MEN). (2001). Informe nacional sobre el desarrollo de la educación en Colombia. 46a. Conférence internationale de l'éducation -(CIE), Genève, Suisse : UNESCO, Bureau international de l'éducation.
Colombia, Ministerio de Educación Nacional (MEN) (1994). Decreto 1860 por el cual se reglamenta parcialmente la Ley 114 de 1994, en los aspectos pedagógicos y organizativos generales, Bogotá, Colombie : Gouvernement de Colombie.
Colombia. (1991). Constitución política de Colombia, Título I: De los principios fundamentales, Articles 7 et 8, Bogotá, Colombie : Gouvernement de Colombie.
Consejo Regional Indígena del Cauca (CRIC). (2004). ¿Qué pasaría si la escuela…? Programa de Educación Bilingüe Intercultural CRIC. Popayán, Colombia, 293 p.
Côté, D., et de Pablo, V. (2005). Sinergias entre economía social y desarrollo rural: estado de la cuestión a partir del caso andaluz. Morelia, España : document inédit.
Espinosa, R. (2003). El gobierno comunitario de los territorios indígenas del Norte del Cauca colombiano: descentralización o autonomía. Cauca, Colombia, 258 p.
Favreau, L. et Fréchette, L. (2002). Développement local, économie solidaire et coopération internationale : l'expérience latino-américaine. Nouvelles pratiques sociales. 15(1), 40-57,
Hernán Rodiguez, Ú. (2002). Plan de vida, Curipacao y Yeral. Bogota, Colombia : TURDAKKE.
Jackson, J. (2004). Crise en Colombie. Conséquences pour les populations indigènes. RISAL. Colombie.
Laville, J.-L. (2007). Économie et solidarité : esquisse d'une problématique. Dans J. L. Laville (dir.), L'économie solidaire. Une perspective internationale (p. 9-104). Paris : Hachette,.
Laville, J.-L. (1994). La nueva economia social y el concepto de la economia solidaria. CAYAPA, Revista Venezolana de Economia Social, 1(1), 1-27.
Lévesque, B (2006). Le potentiel d'innovation sociale de l'économie sociale : quelques éléments de problématique. Économie et Solidarités 37(1), 13-48.
Lévesque B. (1999). Développement local et économie sociale : éléments incontournables du nouvel environnement. Économie et Solidarités 30(1), 111-126.
López, L. E. (1999). La educación intercultural bilingüe en América Latina: balance y perspectivas. Revista Iberoamericana de educación (20), 34-36.
Martin, T. (2003). De la banquise au congélateur. Mondialisation et culture, Paris et Québec : UNESCO et Presses de l'Université Laval.
Montaluisa, L. (1989). Comunidad, escuela y currículo: Materiales de apoyo para la formación docente en educación bilingüe intercultural (4). Santiago, Chile : UNESCO et OREALC.
Monzón Campos, J. L. (1997). Les contributions de l'économie sociale à l'intérêt général. Dans L. Monnier et B. Thiry (dirs.). Mutations structurelles et intérêt général (p. 89-99). Bruxelles : De Boeck et Ciriec international.
Organización de Estados Americanos, Comision interamericana de derechos humanos (OEA) (1994). Los derechos de los indígenas en Colombia. Dans Segundo informe sobre la situación de los derechos humanos en Colombia. Washington, D.C. : OEA.
Organización Nacional Indígena de Colombia (ONIC). (2005). Hacia una educación indígena multilingüe e intercultural comprometida con la vida. Bogota, Colombia : Ediciones TURDAKKE.
Rodríguez Rueda, Á. (2005). Lecciones de una didáctica comunitaria e intercultural de la enseñanza de las ciencias naturales y sociales en las escuelas indígenas del Cauca y Amazonas. Colombia : Fundacion caminos de identidad.
Sartorello, S. C. (2006). Una perspectiva crítica sobre interculturalidad y educación intercultural y bilingüe: El caso de la Unión de Maestros de la Nueva Educación para México (UNEM) y educadores independientes en Chiapas. Revista latinoamericano de educación inclusiva 3(2), 77-90.
Urrea, F. et T. Hurtado (2002). La construcción de las etnicidades en la sociedad colombiana contemporánea : un caso ejemplar para la discusión sobre etnicidad y grupos raciales. Dans N. Fuller (dir.), Interculturalidad y política: desafíos y posibilidades (p. 165-199). Lima, Pérou : Red para el Desarrollo de las Ciencias Sociales en el Perú.
Vitonás, E. (2003). Nuestra Economía: Formas de producción y distribución de la economía Nasa. Dans Estudios y análisis de los procesos comunitarios en las comunidades indígenas del Norte del Cauca. Cauca, Colombie : document inédit.
Yin, R. K. (2014). Case Study Reseach : Design and Methods. Thousand Oaks, California : Sage.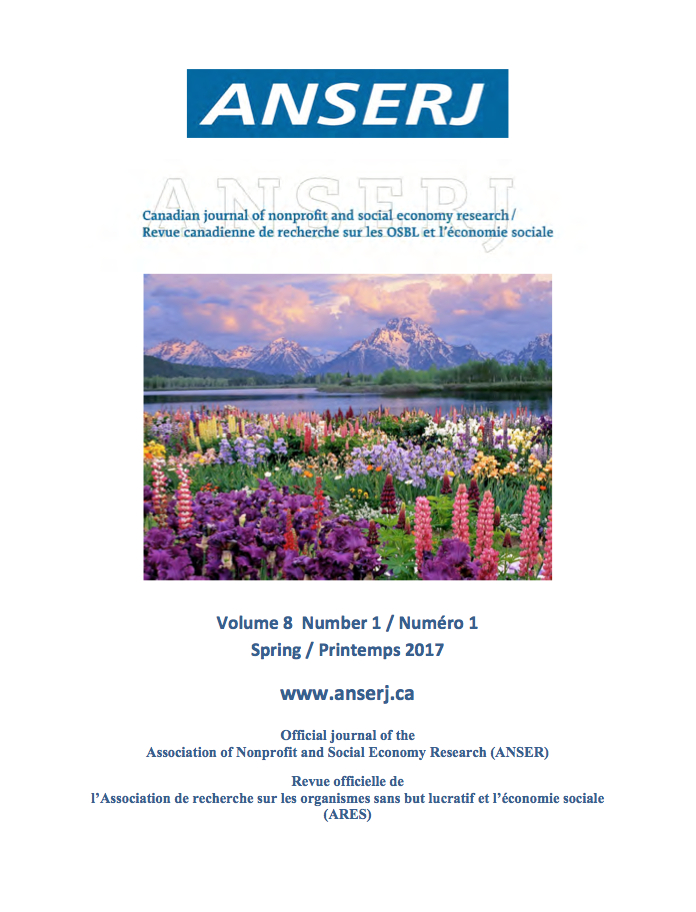 Downloads
License
Submission of an original manuscript to the Canadian Journal of Nonprofit and Social Economy Research / Revue canadienne de re­cherche sur les OSBL et l'économie sociale [thereafter ANSERJ] will be taken to mean that it represents original work not previously published, that it is not being considered elsewhere for publication; that the author is willing to assign copyright to the journal as per a contract that will be sent to the author just prior to publication and, if accepted for publication, it will be published in print and online and it will not be published elsewhere in the same form, for commercial purposes, in any language, without the consent of the publisher.

The journal takes the stance that the publication of scholarly research is meant to disseminate knowledge and, in a not-for-profit regime, benefits neither publisher nor author financially. It sees itself as having an obligation to its authors and to society to make content available online now that the technology allows for such a possibility. In keeping with this principle, the journal will published all of its issues online.
Authors who publish in the ANSERJ agree to release their articles under the Creative Commons Attribution-Noncommercial-No Derivative Works 2.5 Canada Licence. This licence allows anyone to copy and distribute the article for non-commercial purposes provided that appropriate attribution is given. For details of the rights an author grants users of their work, please see the licence summary and the full licence.