Cultivating Alliances: The Local Organic Food Co-ops Network
Keywords:
Alliance, Co-operative movement, Local Organic Food Co-ops Network, Social movement, Sustainable food system / Alliance, Mouvement coopératif, Mouvement social, Système d'alimentation durable
Abstract
Although social movements can lose their way in neoliberal times, building alliances can help them to leverage their strengths and overcome their weaknesses, thus avoiding co-optation and "mission drift." One example of this strategy can be found within the co-operative movement: the Local Organic Food Co-ops Network in Ontario. A pilot study of six co-operatives in this organization reveals that they cultivate alliances in four ways: among member co-ops, through the creation of the network, with other types of organizations, and with other social movements. These alliances strengthen the co-operative movement, help to make the politics of alternative food systems work, influence the economy toward co-operation, and open up possibilities for establishing and maintaining a more sustainable food system.
RÉSUMÉ
Les mouvements sociaux, bien qu'ils puissent s'égarer à l'ère du néolibéralisme, peuvent établir des alliances afin de profiter de leurs atouts et surmonter leurs faiblesses, évitant ainsi la cooptation ou les déviations. On retrouve un exemple de cette stratégie d'alliance dans le cadre du mouvement coopératif en Ontario : The Local Organic Food Co-ops Network. Une étude pilote de six coopératives faisant partie de cette organisation révèle que celles-ci créent des alliances de quatre manières différentes : entre coopératives membres, grâce à la création du réseau même, avec d'autres types d'organisation et avec d'autres mouvements sociaux. Ces alliances renforcent le mouvement coopératif, aident à faire fonctionner les systèmes d'alimentation alternative, encouragent la collaboration économique et contribuent à établir et maintenir un système d'alimentation plus durable.
Downloads
Download data is not yet available.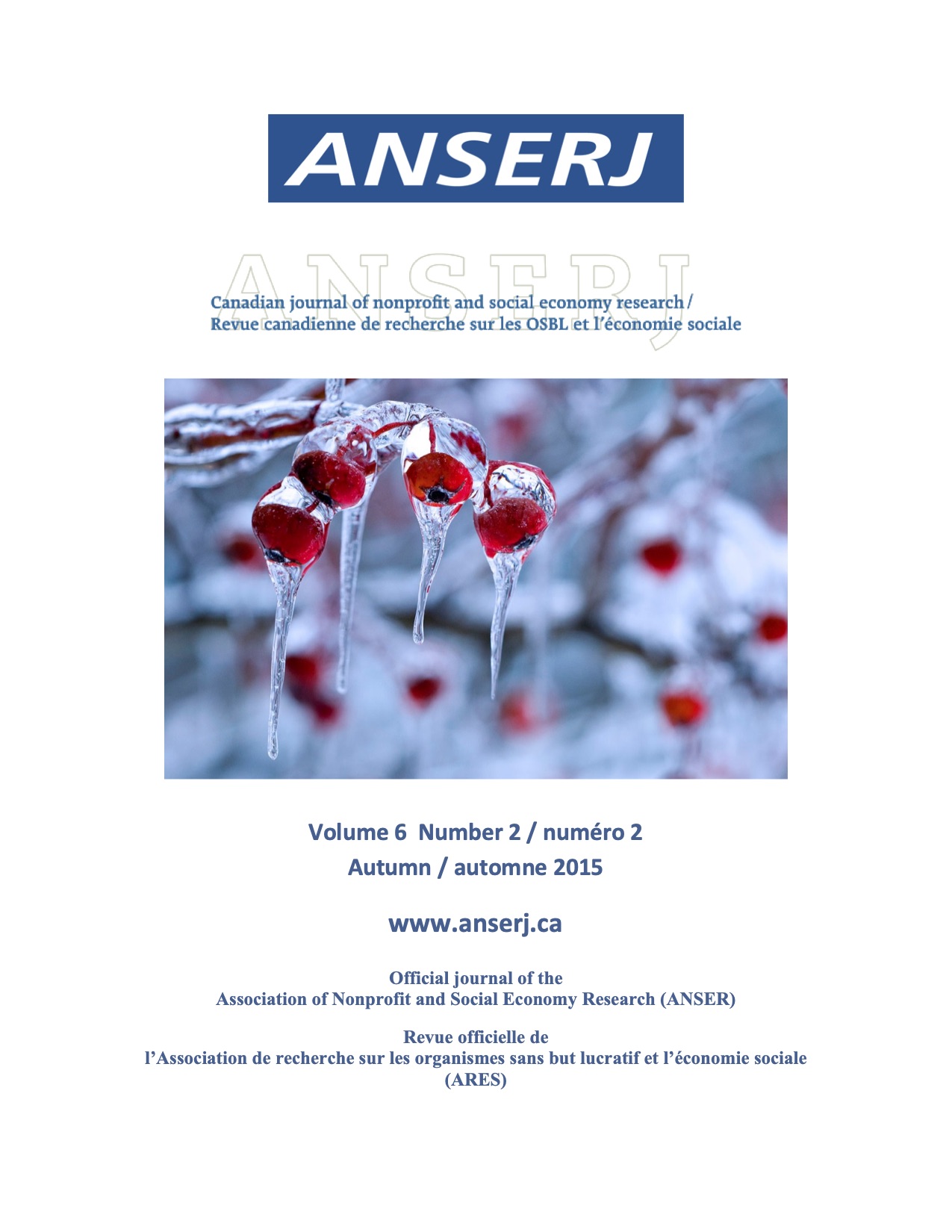 Downloads
License
Submission of an original manuscript to the Canadian Journal of Nonprofit and Social Economy Research / Revue canadienne de re­cherche sur les OSBL et l'économie sociale [thereafter ANSERJ] will be taken to mean that it represents original work not previously published, and that it is not being considered elsewhere for publication.
The journal takes the stance that the publication of scholarly research is meant to disseminate knowledge and, in a not-for-profit regime, benefits neither publisher nor author financially. It sees itself as having an obligation to its authors and to society to make content available online now that the technology allows for such a possibility. In keeping with this principle, the journal will publish all of its issues online.
Authors who publish in the ANSERJ agree to release their articles under the Creative Commons Attribution-Noncommercial-No Derivative Works 4.0 International Licence (CC BY-NC-ND 4.0). This licence allows anyone to copy and distribute the article for non-commercial purposes provided that appropriate attribution is given. For details of the rights an author grants users of their work, please see the licence summary and the full licence.