A Comparative Analysis of Nonprofit Policy Network Governance in Canada
Keywords:
Network governance, Nonprofit sector, Government relations / Gouvernance de réseaux, Secteur à but non lucratif, Relations
Abstract
Across Canada, provincial governments and nonprofit network leaders are engaged in a "third wave" of consultations, policy dialogues, and policy alignment strategies. Unexplored to date is how nonprofit policy networks are governed and structured. Network structures could have important implications for policy management and any bilateral collaboration agreements with provincial governments. This is a new point of analysis for both public administrators and nonprofit network leaders. The alignment of network governance in four structural dimensions is analyzed, as are parallel nonprofit policy network structures within provincial governments and select nonprofit policy outcomes.
RÉSUMÉ
Au Canada, les gouvernements provinciaux et les dirigeants de réseaux à but non lucratif se sont engagés dans une « troisième vague » de consultations, dialogues politiques et stratégies d'alignement politique. Inexplorée jusqu'à ce jour est la manière dont les réseaux d'action publique à but non lucratif sont gouvernés et structurés. Pourtant, la structure des réseaux pourrait avoir des implications importantes pour la gestion politique et tout accord de collaboration bilatérale avec les gouvernements provinciaux. Il s'agit ici d'un nouveau sujet d'analyse, tant pour les administrateurs publics que pour les dirigeants de réseaux sociaux. Cet article évalue la division en quatre dimensions structurales de la gouvernance des réseaux, les structures parallèles des réseaux d'action publique à but non lucratif au sein des gouvernements provinciaux et certains résultats émanant de politiques à but non lucratif.
Downloads
Download data is not yet available.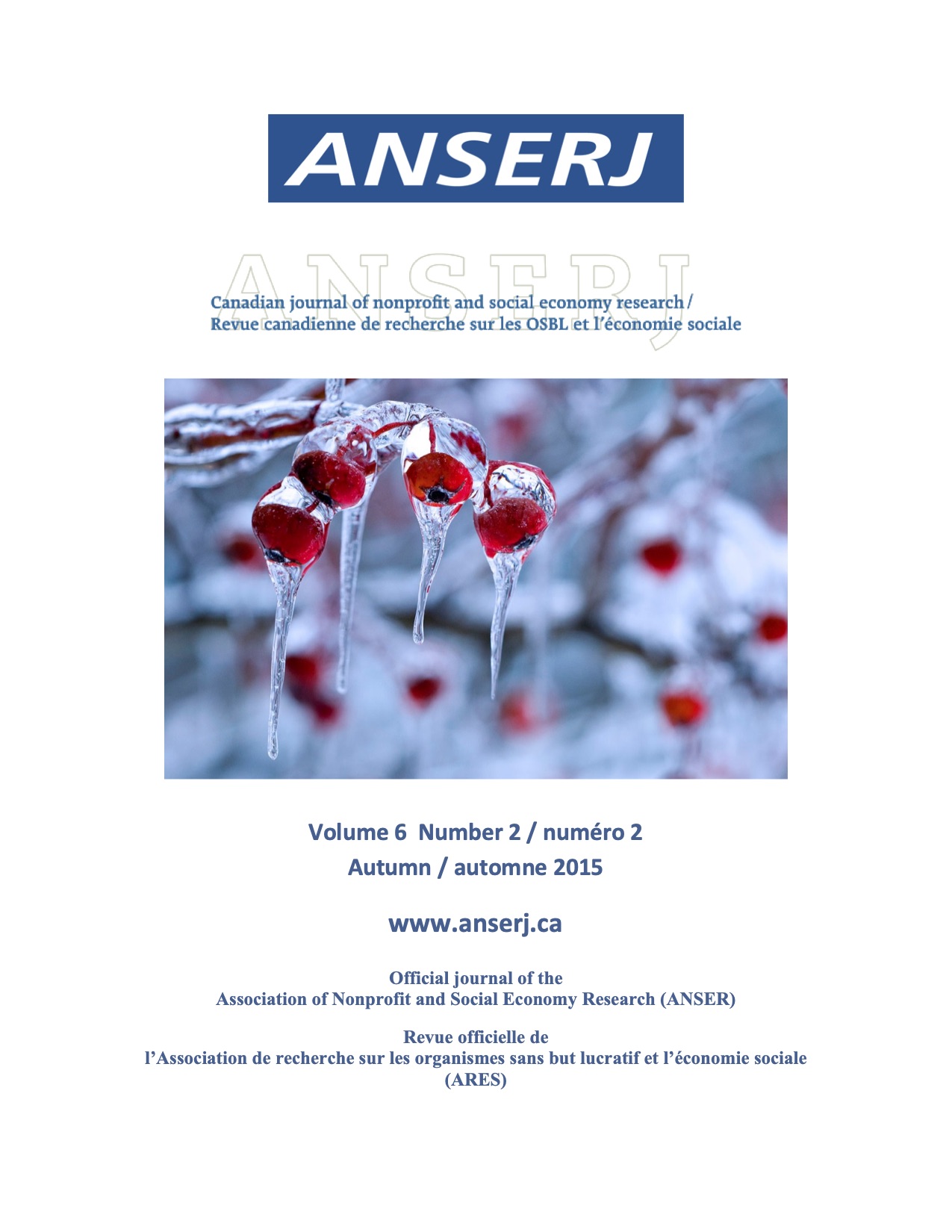 Downloads
License
Submission of an original manuscript to the Canadian Journal of Nonprofit and Social Economy Research / Revue canadienne de re­cherche sur les OSBL et l'économie sociale [thereafter ANSERJ] will be taken to mean that it represents original work not previously published, and that it is not being considered elsewhere for publication.
The journal takes the stance that the publication of scholarly research is meant to disseminate knowledge and, in a not-for-profit regime, benefits neither publisher nor author financially. It sees itself as having an obligation to its authors and to society to make content available online now that the technology allows for such a possibility. In keeping with this principle, the journal will publish all of its issues online.
Authors who publish in the ANSERJ agree to release their articles under the Creative Commons Attribution-Noncommercial-No Derivative Works 4.0 International Licence (CC BY-NC-ND 4.0). This licence allows anyone to copy and distribute the article for non-commercial purposes provided that appropriate attribution is given. For details of the rights an author grants users of their work, please see the licence summary and the full licence.